The Happiness Equation: Job Satisfaction in the Salesforce Ecosystem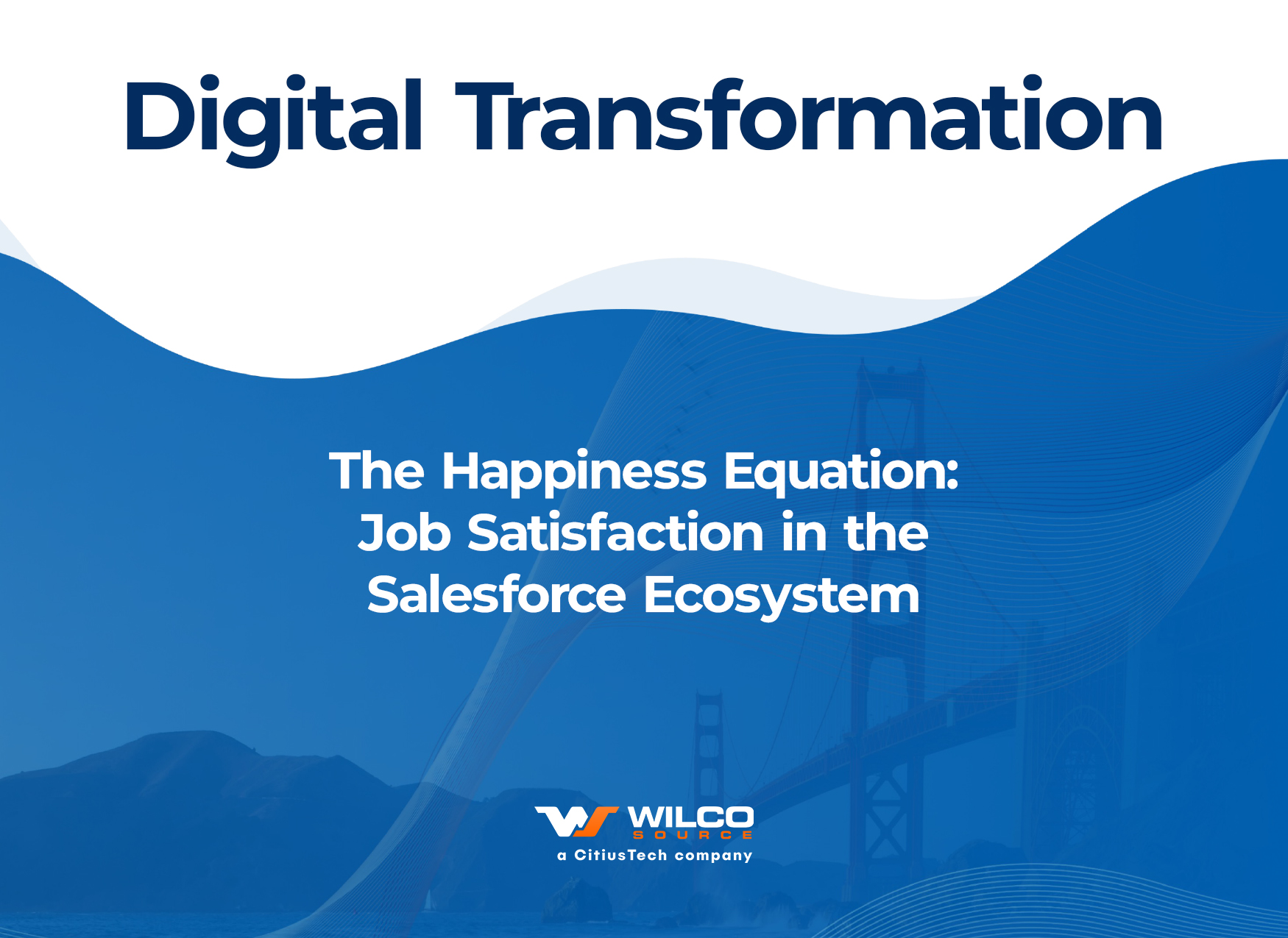 Salesforce and its ecosystem are forecasted to create 3.3 million new jobs and $859 billion in new business revenue from 2016 through 2022, according to research from IDC.
Since its founding in 1999, Salesforce has become far more than just a CRM. But what's most compelling is the partner ecosystem the company has successfully built over the years –– something they set out to do from the beginning. This ecosystem, which now comprises partners, developers, and a robust Trailblazer community of admins, architects, students, users, and more, has adopted the Salesforce spirit of Ohana.
Ohana, in Hawaiian culture, represents the idea that families — blood-related, adopted, or intentional — are bound together, and that family members are responsible for one another. This was baked into the Salesforce foundation from the start and has guided the company culture. But it doesn't end there. They've strived to extend Ohana well beyond the internal culture, reaching the extended ecosystem –– which is no easy feat.
The teams at Mason Frank International and SalesforceBen were curious to see just how deep the spirit of Ohana has permeated the ecosystem and how it has impacted happiness and well-being. As part of their seventh annual Salesforce salary survey, they included –– for the first time –– measures of happiness and well-being. Their findings were telling.
Workplace Happiness
Arguably the most important aspect of any career is happiness. While happiness and satisfaction are subjective concepts based on what the individual deems meaningful, being content with a career is crucial to maintaining work-life balance.
For those in the Salesforce community, an overwhelming majority, 70%, consider themselves generally to very happy in their career. Driven by great colleagues, a supportive leadership team, and a sense of contribution and belonging, most respondents believe the Salesforce ecosystem offers them the opportunities to learn, thrive, and achieve positive work and life well-being.
Career Progression
Approximately 60% of partners expect their workloads to increase in the coming months, and Salesforce professionals acknowledge this could lead to further career progression.
The sheer momentum of the Salesforce ecosystem is driving the global creation of career opportunities and growth for millions of professionals and this has further contributed to the happiness equation. Of those surveyed, more than 76% say they are somewhat to very content with their career progression.
Of course, this also depends heavily on the partnering organizations professionals work for. Those who were most content in their roles tended to work for organizations in which the management supported and encouraged education, and they were simply given opportunities and the freedom to grow. This was true across all roles –– from sales to developers to administrators.
Feeling Valued
When employees feel valued at work, it can increase motivation, commitment, and innovation. And feeling valued is an important part of the Salesforce ecosystem. Four of the top 15 components that contribute to workplace happiness centered on being valued as an employee ––being recognized for hard work and being in a supportive and caring company culture.
The good news is, of those surveyed, 74% feel valued at work, and nearly 70% believe employee wellbeing is a priority at their company.
While it may not be entirely universal, the Salesforce Ohana concept has trickled down into many companies within the ecosystem, thus perpetuating company culture that promotes a sense of value and wellbeing. Indeed, it's an exciting time to be a part of this ecosystem, but you have to be sure you align with the right company –– one that embraces the spirit of Ohana.
Whether you're looking to start your career in Salesforce or pivot to a new role or organization, do your due diligence. Ask how growth and development are supported. Talk to current and even previous employees — if you can find them — about the company culture. Did they encourage well-being and a collaborative work environment? These are just some of the things to consider before you commit to dedicating a majority of your hours to an organization.
Looking to be part of the growing Salesforce Ecosystem? See what the Wilco Source culture is all about.